5 Apps That Will Pay You for Exercising
With exercising you can gain energy and release your stress. Moreover, you can earn money now by following a regular exercise schedule. There is no competition with others and you have to compete with yourself. By the end of the day, you will be the winner and get reward money if you stick with the habits. 
Many of you might have started this year with a new year resolution. Lots of resolutions include weight loss, getting healthy, and fitness goals. Are you sticking with your vows or have got tired within a month or less? Everyone knows the benefits of staying healthy. One can gain energy and release stress with exercising. Most of you should exercise daily to transform yourself into a healthy being. 
Isn't it enough to know the benefits for the sake of your well-being? It is important to stop being a couch potato. What if you get paid to stay healthy? 
When you will be offered money to workout, the chances increase that you will exercise more frequently. There are some applications that pay people to stick to a healthy diet, meeting exercise goals, and many more. The motive of these apps is to encourage people to stay fit and lose weight. There is no competition, you have to compete with yourself and by the end of the day, you will be the winner if you stick with the habits. 
Many people might not be aware of these applications. If you are one of them, who has a major plan to lose weight this year, the good news is that you can earn money now. 
"If you are spending money at the gym, the applications can pay you some cash for your hard work.", says the expert writer from Assignment help 4 me. Besides getting physical and mental benefits, try one or more from below given options to get rewarded with money. 
Healthy Wage is an app that promises financial rewards to the users if they succeed in meeting the health goals. You can play a weight loss game, by paying an entry fee. There are two options, either you can join a team challenge or bet on yourself. One more option is there for your employer- to conduct a workplace game to promote wellness among colleagues.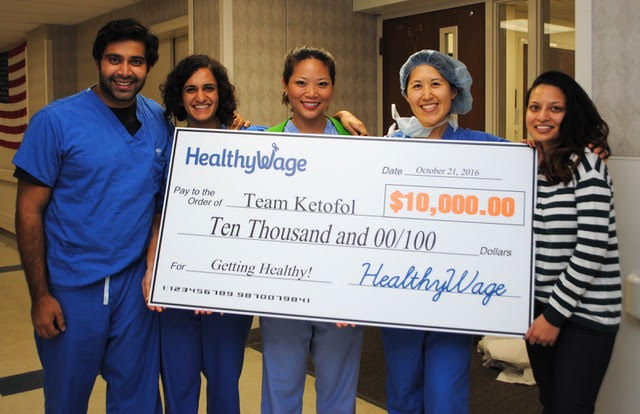 The best option is to choose the amount of money that you want to bet on yourself. On the application of a healthy wage, there is a calculator available on which you can calculate your prize according to the weight loss. Keep on tracking your progress and after your time frame ends, make another video evidence to verify that you have successfully met the desired goal. Get rewarded for your victory. 
You can go through the testimonials on the site that shows people who won more than $1,000 by losing weight. Isn't it great? Just meet easy goals and get paid. You can get cash, check, money on PayPal, or get money credited at Amazon. 
In this application, you can choose between two challenges. One is the Kickstarter that is a four-week challenge in which you will be asked to lose 4% of your present body weight. Another challenge is the Transformer in which your goal will be to lose 10% percent of your body weight. 
By meeting your goal on time, you can get your bet money back in addition to the money from people who lose. The money is divided among winners from non-winners. A person who fails to meet his/her goal will be provided back the exact amount of money that was put in the bet. So, there is a no-lose policy. 
You can join by filling basic information and paying your bet via PayPal or credit card. Upload two pictures of yours, on the scale, one full-body picture and one close-up of your weight on the scale. Cheating is a huge problem and to circumvent it, a word is required to be written on the floor in pictures. Every time you are asked to upload a pic, the word is changed. In case cheating is suspected, video weigh-ins are mandatory to be provided by you.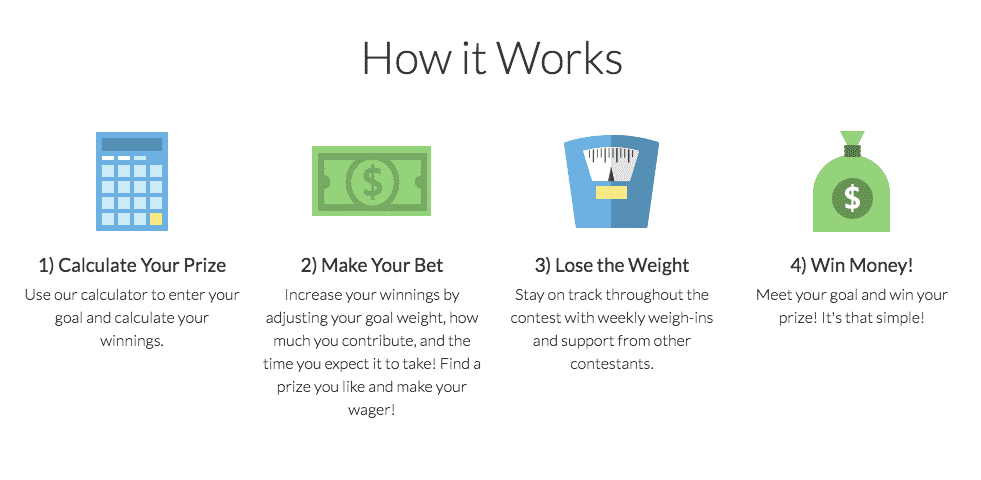 In any Android or iOS device, you can download achievement application. You can earn money for following a healthy routine. Getting good sleep, tracking steps, eating healthy and many more things are noticed. For every 10000 points earned by you, will make $10. PayPal and direct deposit are payment methods. 
With Achievement, get paid by counting steps at the end of each day. 
Set weekly pacts with Gym-Pact. For eating 15 servings of vegetable in 7 days, five runs a week and many more you can set pacts. You can set $5 or more for a pact. For example, you are getting $5 for a run, in case you miss a run you will be charged $5. You are required to upload pictures of your food to produce pact. On every Sunday, your credit card is charged for missed pacts (if any) after tallying your pacts.
For your healthy habits, you can earn rewards by signing in for Balance Rewards program. You can earn points for various healthy tasks performed by you like, weighing in, not smoking, exercising, and achieving other health goals. 
To make tracking easier, you can connect your Balance Rewards account with Fitbit or MyFitnessPal. Although will not get cash for the points, you can shop at Walgreen's near you with the points.